Guest Post by Paperkitties: Skin Care Routine for Combination to Oily (Acne prone) Skin
November 4, 2015
Today I am very excited to be able to introduce Alene aka Paperkitties who blogs over at Paperkitties.com.  We are fellow contributors for Ioninsider, and although there is a significant gap in our ages, I found Alene to be an old soul and incredibly easy to chat with.  We have very different skin types, and I think her article today helps to fill an important gap that I've been unable to address effectively.  So enjoy!
Hi everyone!
I'm Alene from
www.paperkitties.com
(ig:
@paperkitties
) and have been beauty blogging for almost 3 years now. During my free time, I like to blog about my travelogues too! I started this blog when I was an undergrad in Australia and had all the time in the world to try out different skincare products that would help solved my acne problems, or at least keep them under control. Fast forward to today, I have since settled down back in Singapore, had the privilege of stepping into the beauty blogging circle and met Linda in this wonderful process 🙂
I have been meaning to blog about my skin routine for ages, as it has obviously changed since I last wrote about
it
when I was a fresh grad. Over the years, as I was exposed to more beauty brands, tips and techniques, I'd learn to incorporate more steps into my skincare routine without causing much of a breakout. I admit to being pretty stubborn initially, fearing that putting too much products will cause breakouts and whatnots without realising that it was the reluctance that caused these ongoing problems. Since Linda and I have completely different skin types and problems, we thought that it would be a great idea for me to cover this topic! For starters, I have combination to oily skin with enlarged clogged pores that are prone to acne (be it hormonal or not) – especially nodules, whiteheads and blackheads. On top of my skincare regime that I will be covering later on, I also pop over to
Privé Aesthetic
once every fortnight for their
Crystal Clear Facial
to keep my acne and whiteheads at bay.
Step 1: Cleansing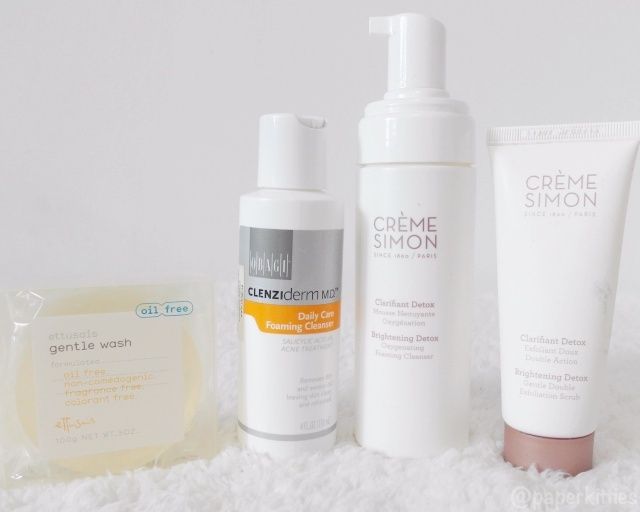 For Day
I like to keep my morning routine sweet and simple as sleep is ever so precious when you have to commute 90mins per trip, daily. I have been using
Ettusais Gentle Wash Soap Bar
since I was 17 and it is basically the only product that I am still consistently using after all these years. It is one of the most effective cleanser wash I've used to calm the angry reds without drying my skin at all, and is very reasonably priced.
On days after my facial, I prefer using Clenziderm MD Daily Care Foaming Cleanser as it has has 2% salicylic acid to help prevent clogged pores. It is surprisingly gentle and leaves a cooling sensation after washing (good wake up call in the morning), but I tend to minimise the usage of this as I don't want my skin to get too used to the salicylic acid to the point of me needing to hunt for a stronger replacement. There's actually quite a number of bad reviews for this Clenziderm MD, but I'm not complaining as it has worked really well without aggravating my breakouts so far.
And when my skin is feeling normal, I prefer mixing Creme Simon Brightening Detox Oxygenating Foaming Cleanser with Creme Simon Brightening Detox Gentle Double Exfoliation Scrub! I honestly find Creme Simon too underrated in this beauty industry and its product should be raved about more. It is one of the rare brands where I can use the entire range without breaking out and it actually helps improve my skin! I like mixing the two products together as it turns into a very gentle scrub perfect for everyday use, making it good for daily exfoliation without over-drying the skin.

For Night
After a long day exposed to all the dirt, makeup and whatnots, I am all about double (or even triple) cleansing at night. No matter how tired I am, I will never go to bed without throughly cleansing my face even if it means skipping everything else. For starters,
The Body Shop Camomile Waterproof Eye and Lip Makeup Remover
(my mom swears by it) is used to remove my usual heavy eye makeup before using
Pure Vivi Cleansing Lotion
for the remaining makeup left on my face. Both are super gentle and effective in getting their job done without a fuss.
Moving on, the decision on each cleanser is pretty simple:
Ettusais Gentle Wash Soap Bar for acne maintenance,
Fresh Soy Face Cleanser for a quick and gentle wash up to remove all makeup and dirt before yoga (I'll still cleanse my face after my workout),
Philosophy Purity For lazy days when I only have sunblock and light make up on, but still want to ensure my face is squeaky clean,
GlamGlow Supercleanse On bad skin days, when I really want to treat my acne but don't have the time to indulge in a mud mask.
All these cleansers will always be used alongside Clarisonic Mia 2 as I find it ideal in thoroughly cleansing my face whilst keeping the pesky bumps at bay. I also find that products used to prep my skin after which absorbs much faster too!
Step 2: Toning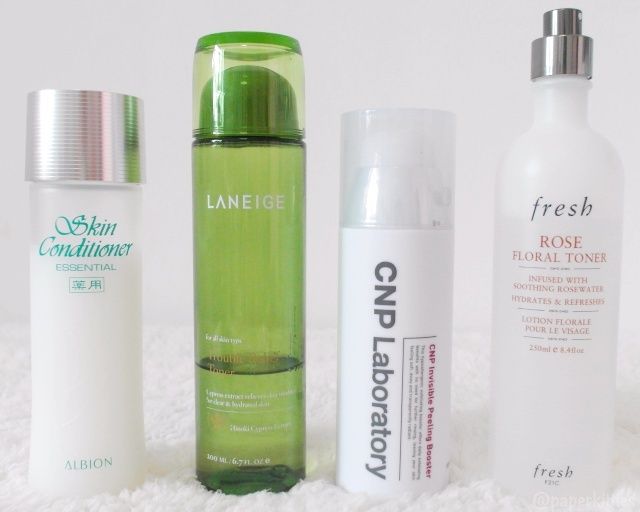 Regardless of what others say, toning is still an essential step in my routine as a final cleansing step so as to make sure any cleanser residue is off. Before that, I'll use
CNP Laboratory Invisible Peeling Booster
as a quick simple step to enhance absorption of my follow-on skincare. It is one of my favourite product at the moment due to its ability to not only to remove dead skin cells on a daily basis, soothe and reduce skin irritation, but also preventing whiteheads from forming! I've noticed them visibly diminishing a month after using this Peeling Booster.
Next up, I'll use Albion Essential Skin Conditoner in the morning to calm my skin and radiant. To be honest, I started using Laneige Trouble Relief Toner simply because I wanted to finish it up so as to clear more space on my vanity. I find the texture slightly thicker than the usual toner so I personally prefer using at night. Prolonged usage of it did help me realise that it is awesome in calming redness, especially on freshly squeezed zits (I know, I know. Bad example but sometimes it just can't be helped :/).
On lazy days, that's when Fresh Rose Floral Toner comes in. It feels more like a mist, making it very easy to tone, hydrate and soothe. Oh yes, you'll notice that I am all about calming the redness and trying to prevent them from forming – which has been improving so far, thank goodness.
Prepping
* You'll notice that I have skipped the eye-care step not because I don't use any. I do, but I just haven't found a product that truly satisfy my needs at the moment, making it kind of pointless for me to cover on things that fail to impress. I hope you'll understand 🙂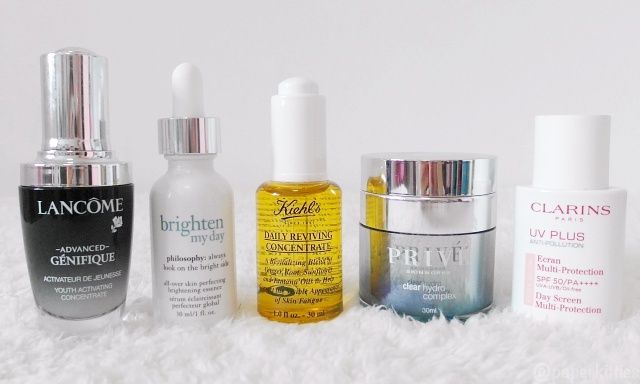 For Day
With the haze polluting the air in our sunny island, I recently took a step further in prepping my skin in the morning to ensure that it will not awaken my dermatitis (so far so good *fingers crossed*) nor cause any breakouts, hormonal ones are bad enough! So the above are the ones I use everyday without fail in the order from left to right:
Lancôme Advanced Génifique Youth Activating Concentrate is first used to prep my skin to better absorb the upcoming products to come. Used in a patting motion, my skin drinks this up without a thought, resulting in a more supple, clearer and even skin tone. It's super lightweight so it actually helps improve my skin instead of causing breakouts, which is very rare!
Philosophy Brighten My Day is also another serum that works way better than I'd expected to be. Especially with its thick, opaque texture, I was half expecting my face to break out within a day of using; instead, my skin looks brighter and acne scars are much lighter than before. Do note that I used it right after Lancome Advanced Génifique instead of alternating between the two. Both products are light enough to be used together.
Newly launched Kiehl's Daily Reviving Concentrate came just in time to combat the haze! I just can't rave more about this product. For peeps with oily skin, you'll know how the ideal of putting facial oil is dreaded, not to mention applying it during the day in humid Singapore! Yet you'll be surprised at how lightweight the texture is to the point that my skin absorbs it instantly upon application. It also helps prevent tired looking, fatigued skin after facing my computer for the entire day, whilst combatting against the haze. My skin is really holding up against this external aggressors ever since I started using it, so if you have acne prone skin and still aren't sure whether to give it a go… I hope my mini review gives you more confidence in it!
Next, we have Prive Clear Hydro Complex targeted in solving only one skin problem: to hydrate intensively. It's something that most people with combination to oily skin tend to ignore yet dehydration is a major contributing factor to oily skin. You see, sebum produce excessively when your skin is dry, and by ignoring the dryness, it just leads to more sebum being produced resulting in oily skin that tend to cause acne flare ups – a vicious cycle that never ends. One tip I've learnt from my beautician is that the more hydrated your skin is, the easier extraction is, which means less redness and flare ups!
Last but not least, *phew* I'll end the entire routine off with Clarins Day Screen Multi Protection with SPF50/PA++++ in Rosy Glow. That baby pink tint helps even out my skin tone for a fresh, luminous look. The texture is lightweight and absorbs easily without causing the slightest greasiness unlike most sunblock I've owned. As I'm trying to avoid foundations these days to prevent clogged pores, only concealer and loose powder are used on top of this sunblock and I am good to go.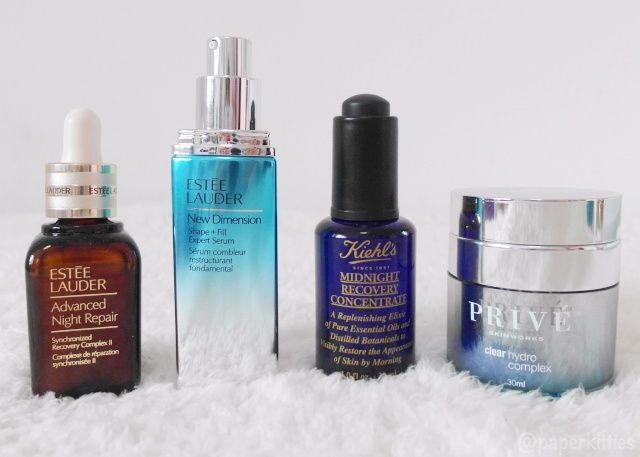 For Night
Onwards to the night routine, it is less complicated but more rich since I'm sleeping in an air-conditioned room which makes my skin easily prone to dehydration. Just like my day routine, I'm also using these four products religiously from left to right:
Estee Lauder Advanced Night Repair is a classic serum that promotes a natural nighttime purification process. There's mixed reviews for this serum but thankfully it suits my skin and works well in hydrating my skin, keeping it looking clear and calm the next morning. Just like Lancôme Advanced Génifique, I use it more as a booster before my next serum as it helps absorb the next few products super quickly.
I've been using quite a number of anti-aging serums but none suits my skin better than Estee Lauder New Dimension Shape + Fill Expert Serum. Most anti-aging serums tend to be too rich for my skin, causing in tiny blemishes popping up the next day but not for Estee Lauder – this lightweight gel serum absorbs quickly without a greasy after feel. It's good in giving a lifting effect especially if your face tend to bloat in the morning.
Lastly, I will mix two to three drops of Kiehl's Midnight Recovery Concentrate with Prive Clear Hydro Complex to further calm my skin and nerves (the lavender scent is so soothing) before I head to bed. Some may find it a bit greasy for their liking, but I find it just nice without causing a breakout. In fact, I started waking up to a very fresh and supple face ever since I started mixing these two together~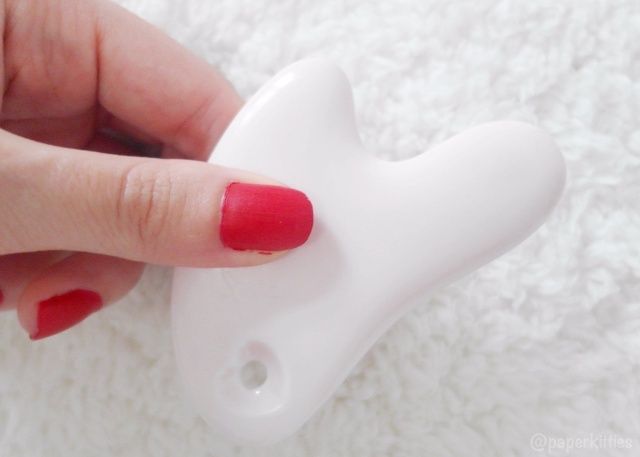 But I'll let you in on a family secret my mom swears by – gua sha. I begrudgingly incorporated this as a final step into my skincare routine a month ago as my mom wouldn't stop raving on how radiant her skin looks ever since she bought them in Japan's Tokyu Hands, and boy am I amazed with the results. Bumps are visibly lesser to the point that it even help my nodules disappear within a few days! Promoting blood circulation, detoxifying and improving acne are just one of the few benefits gua sha is known for. I reckon you should try it out and perhaps I will blog about it in detail soon? 🙂
Troubleshooter
Unrelated to my facial routine but definitely worth mentioning,
Ettusais White Body Mist
is my holy grail to back acne! As you know, back acne can be the most annoying skin problem as it is hard to reach and treat. This mist is ideal in targeting those hard to reach areas and is very effective in eliminating those pesky zits without drying them or leaving any scars.
Back to the face, I alternate between Origins Spot Treatment and Laneige Trouble Relief Spot Gel depending on how serious the problem is, the former being the stronger one whilst the latter is just to calm the blemishes down. When all else fails and my itchy hands choose to squeeze them, I will always use Acne Clear Pimple Treatment Cream to dry out the problematic spot. I have also been using this since I was 17, and it had always helped me in drying out the squeezed pimple. As my skin used to be really oily, all I need to do was to peel the dead skin a few days later and my skin will heal within a week without any acne scars. That has obviously changed as I grew older and my cell turnover has decreased, thus the sudden increase in moisturising my skin daily.
Weekly Maintenance
I'm so thankful that you're still with me and I hope I have not bore you with my constant ramblings because we are finally at my favourite part: MASKS! Whenever I am trying a skincare brand for the first time, I will instinctively reach out for their masks first. Reason being that the results are more quick for me to more or less gauge if I am suited for the brand. In other words, I have enough masks to last me a lifetime and I am always ready to try out more but I don't want to overwhelm you for today so I have narrowed it down to this bunch my skin is loving at the moment:
Out of the entire Biotherm range, I would say that my skin loves Biotherm Purefect Skin 2-in-1 Mask the most. Insanely easy to use, all you got to do is leave it on for a minute as it works its magic in purifying your pores before micro-exfoliating the skin to eliminate any remaining impurities. This is perfect when days I need to deep cleanse my clogged pores but don't have the time to sit and wait for time to pass.
GlamGlow Supermud needs no further introduction I believe. I have been an avid user of GlamGlow's entire range and I find this best to be used on days when your skin needs a quick fix before your next event but you can't afford to aggravate it. It is very good in removing blackheads and soothing my blotchy looking skin, makeup also adheres much better after whenever I use this.
The Saem Gem Miracle Black Pearl O2 Bubble Mask can only be bought in Korea or online stores but it is one of the best oxygenating mask I've used so far! I had the entire family use this the night before my cousin's wedding last year because it is so good in brightening and tightening one's pores. Although the effects doesn't last, making it necessary for frequent usage, I still find this O2 bubble mask works the best of them all.
Kose Medicated Seikisho Whitening Mask kinda works like a pore strip, except it's for flexible in the problematic area you wish to use it on. I tend to use this once a week, especially on days when I find my blackheads extremely obvious or that my pores are really clogged, making it very fun and satisfying to remove. The effect is almost instant, clearer pores, brighter face, and less significant acne scars.
Jurlique Fruit Enzyme Exfoliator is a very gentle fruit-based treatment to exfoliate your skin for smoother and brighter looking skin without being too harsh or cause irritations.
With all the exfoliating and purifying products I tend to use, it is without a doubt that I need to have something hydrating to combat it all! Fresh Rose Face Mask calms my redness and irritation associated with any acne problems I'm facing. I choose this among all the other hydrating mask I own as I find it most soothing and hydrating, especially when used after my purifying mask. Massaging the rose petals does adds up to the luxurious feel, hees.
Last but not least, my favourite clay mask at the moment is none other than Fresh Umbrian Clay Mattifying Mask! It is so gentle you can even use it daily as a cleanser, or even used as an overnight spot treatment. I tend to leave it on for at least 20-30 minutes and I find it amazing to note that the trouble spots tend to look much whiter than the rest of the dried up mask. It is less drying than the other clay masks I've tried so far, reduces oiliness without drying the skin yet rinse off easily. It's not at all drying and does helps in making the bumps and pimples goes down. If you're trying out clay masks for the first time, this will be the perfect start for you.
—
And that's the end of my very long-winded beauty routine! I hope you've find this load of information useful in selecting your next beauty product and do feel free to leave a comment and ask me any questions below, I will be more than happy (and very grateful) to discuss with you. I f you've noticed, I didn't focus too much on target-treating them but more on preventing and calming them down as I've realised that the more I tend to focus on them, I end up using really harsh treatments that backfires on me. I've since learnt that prevention is better than cure, so the more you take care in feeding your skin's needs, the less problems will arise. May you have a great week ahead and thank you Linda for having me here, it had been a great pleasure for me to share my love for skincare with everyone! ♥